The best shizz from the interwebs
last article added on Apr 19,'14
→ Pick up the latest issue of Slanted magazine for an interview with Hannes Famira. Much thanks and a big shout-out for conducting the interview goes to Wolfgang Wick of
Buero MAGENTA.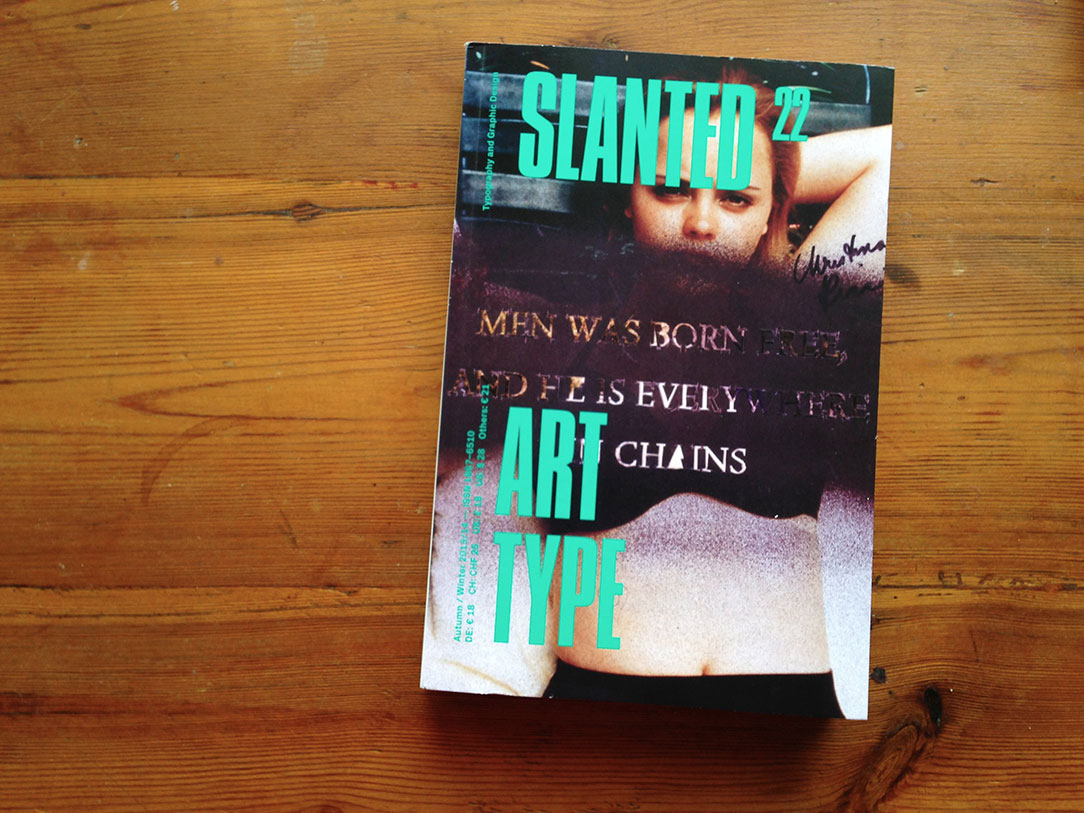 Cover art of Slanted Magazine issue #22 – Art Type Fall/Winter 2013/2014
This issue presents international artists who use and examine type and language in their work. Featured are also a number of essays and interviews that focus on the intersection of art, design and typography. This fat little (16x24 cm) softcover publication has 320 pages, is bi-lingual (Englisch, German) and yours for € 18.—
Slanted #22 spread, right page photograph with kind permission by Tanja Kapahnke, © 2012.
The photograph on the left is featured in the book "Made with FontFont" and shows a hoodie with the
typeface ffBlocker,
released with FontShop International, 1998.
The photograph on the right is curtesy of
Tanja Kapahnke, © 2012
whose photo credit unfortunately went missing in the Slanted article. Tanja gets my heart-felt apology and an extra thank you here. Her photo was taken from an earlier blog post about the program for Berlin's biggest cultural festival,
«48 Stunden Neukölln».
The two designers Thomas Lehner and Dirk Heider created a visual identity using a customized pre-release style of our typeface Arouet.
Update (Dec. 7, 2013)
One of the questions in the interview addresses the gender situation in type design. To follow up, here are some URLs to the web presence of the female designers mentioned:
Elena Albertoni
is one of the driving forces behind
MAKE! Skilled Hands
(like them on
Facebook
) which is promising to become a much needed center for lettering, type design and calligraphy education in Berlin. She also runs
Letter in Berlin
together with Fritz Grögel. Then there are Aleksandra Samulenkova,
Sara Soskolne
(find her on
twitter
),
Martina Flor,
who together with Guiseppe Salerno is running
Lettering vs. Calligraphy
.
Julia Sysmäläinen,
Melle Diete,
Christine Gertsch,
Lara Captan,
Jessica Hische,
Elizabeth Holzman,
Jill Pichotta
and
Verena Gerlach,
who actually wrote a piece called
Where Are the Women in Type Design?
for Typographica.
For further study of the adjacent topic of Feminism and Graphic Design one might also want to pick up
Slanted Magazine issue #12
.